What is the Upollo 111 promotion?
From June 15 at 12:00pm CEST to July 13 at 11:59am CEST, you'll find a special rocket fuel fill bar in the payment window.
Each time you purchase designated premium bundles, Uppy will get fuel for his rocket, which will take him from good 'ole Planet Earth to the moon!

You can either choose to cash in the rocket fuel immediately to get bonus premium currency, or you can save up rocket fuel so that Uppy can travel further - the further he gets, the bigger your bonus will be!
Which bundles are eligible for the Upollo 111 promotion?
All purchases of 200 premium currency (Diamonds, Gold Bars, Gems, etc.) or more will grant rocket fuel in the form of golden coins. The larger the amount of premium currency you buy at once, the more golden coins you'll get with it. You'll be able to fill the bar faster with larger bundles.
Please note: Not all payment providers are eligible! Keep an eye out for bundles marked with a rocket!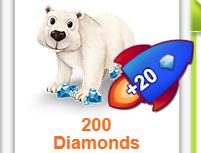 How much bonus currency will I get for my rocket fuel coins?
Each bundle will give you a certain amount of Rocket Fuel:
200 premium currency -->

20 Rocket Fuel

500 premium currency --> 100 Rocket Fuel
1000 premium currency --> 300 Rocket Fuel
One unit of Rocket Fuel is equivalent to one unit of premium currency*. You can exchange your Rocket Fuel for premium currency, or save it to increase the amount of premium currency you'll get when you do finally redeem:

Redeem at...
...20 Rocket Fuel to get 30 premium currency (50% bonus!)
...100 Rocket Fuel to get 160 premium currency (60% bonus!)
...300 Rocket Fuel to get 510 premium currency (70% bonus!)
...750 Rocket Fuel to get 1350 premium currency (80% bonus!)
...1200 Rocket Fuel to get 2280 premium currency (90% bonus!)
...1700 Rocket Fuel to get 3400 premium currency (100% bonus!)
...2200 Rocket Fuel to get 4642 premium currency (111% bonus!)
You can see your prospective total in the top center part of your bar: This will always show you the total amount of "rocket fuel" you have collected (including the bundle you've currently selected in the window!), your bonus, and the total bonus you'll have accrued after making the purchase.

Why are there two different colors in the bar?

The orange bar shows the rocket fuel you have currently collected - the green bar shows you how far the bundle you currently have selected in the payment window would get you, including any potential new bonus levels.
Is the promotion game specific or shared across all of my games?
The Upollo 111 promotion is game-specific. That means that premium currency purchased in one game (ie. Diamonds in My Free Zoo) will have no bearing on the carrots in your rocket fuel level for another game (ie. Molehill Empire).
When will I get my free premium currency?
The prizes for the Upollo 111 can be collected by you at any time before the promotion ends on July 13 at 11:59 am CEST. Be aware that if you redeem your rocket fuel during our nightly back-ups, it may take several hours for your premium currency to arrive in your game account.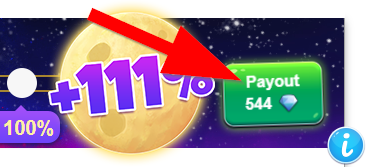 To collect your bonus, just click on the "Payout" button on the right side of the banner! Once you have collected your accrued bonus, Uppy's rocketship will be reset to 0 and you will start collecting anew!
Which payment methods are eligible?
You can benefit from the promotion with all payment providers, with the exception of phone and SMS providers and Video Coins (premium currency earned by watching advertisements in our payment area).
Which games are eligible for the promotion?
Purchases in all of our browser games are eligible for the promotion. In the case of cross-platform games such as My Free Free Farm 2, or Zoo 2: Animal Park, the Upollo 111 promotion will only apply to purchases made through the browser version of the game.
Still have questions?
Our support team will gladly answer any questions you might have about the Upollo 111 promotion!
*in games with standard premium currency scaling. In Horse Farm, 1 Rocket Fuel Coin = 16 Rubies.