Hugs & Pugs for Valentine's Day
2016-02-04
It's that time of year again! Everyone is just a little bit crazy, and there are hearts everywhere! Of course, that's
the perfect setting for our Valentine's Day Event!
For the duration of the event, you'll find the seasonal section of your shop stocked with lovely romantic decorations and furniture. Win the hearts of your customers with tasteful roses, flowery folding screens, baskets of puppies and kittens and the charms of the Pug Queen of Hearts.

By placing decorations and furniture in your Store, you'll earn Hearts. The more Hearts you are, the better your prizes at the end of the event will be.
Prizes include a Gold Booster, a Cupid Pug, and a brand new animal for your store - the Falabella Miniature Horse!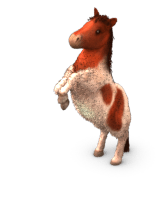 Read up more in the forums or just head on over to the game and play!