Molehill Empire - Get yourselves a woolly Christmas sheep!
2012-12-05
As every year, the peaceful Christmas season is all the rage on Molehill Empire and has attracted a woolly visitor from
My Free Farm
.
As exclusive payment item you'll now be able to get the cool Christmas sheep for your trophy!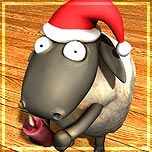 Enjoy your very own Christmas sheep - or visit the forum for further info!