Arrrr - Talk like a pirate!
2012-09-17
All players that log in on "Talk Like A Pirate Day", Wednesday September 19, will get a free Fluffling-Pirate for their gift-box with the
daily scratch-card
(from Level 2 onwards) - and don't worry, you'll get it even if you don't talk like a pirate.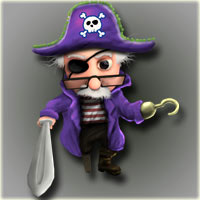 Additionally, you will be able to take the bus from Sniffleton to Fractureford for free from Monday, September 17th -

until September 23rd, 23:59:59 CEST

.


Hoist the jolly roger and set sail for Kapi Hospital!