A Cuddly Mother's Day Event
2018-05-10


For the duration of the event, all players level 9 and up will find the seasonal section of your shop stocked with cute plushies, colorful tulips and a gorgeous decorated tree.

Each Mother's Day decoration you place in your resort will give you points in the form of Teddy Bears.
You can click on this icon at the right side of your playing field to see your progress:




Collecting enough Teddy Bears before the event ends on May 16 at 10:59am CEST will allow you to earn some exciting rewards, including an all-new NPC - Teddy Freddy!

1,000 Teddy Bears - Duckling
2,250 Teddy Bears - 8 Teddy Freddy Pieces
4,750 Teddy Bears - Gold Booster
9,000 Teddy Bears - Blossoming Pear Tree
15,000 Teddy Bears - 12 Teddy Freddy Pieces
25,000 Teddy Bears - Blossoming Apple Tree
38,000 Teddy Bears - Fat Corgi
60,000 Teddy Bears - 30 Teddy Freddy Pieces

The Duckling, Blossoming Pear Tree, Blossoming Apple Tree and Fat Corgi are prizes from last year's event. So if you missed them last year, now's your chance to get them and start cuddling!

Teddy Freddy is an NPC that can be placed in any of your resorts. Every 10 hours, he'll have a gift for you - experience points, Hotel Dollars or even landmark pieces!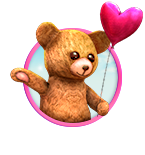 Please note: Only decorations placed in your resort when the event ends on May 16, 2017 at 10:59am CEST will count towards your reward. Items in your inventory will not count! So make sure to place everything you buy IN YOUR RESORTS.