A Fairy Tale Celebration
2018-05-08

For the duration of the event, you'll find the seasonal section of your shop stocked with whimsical fairy tale forest decorations - give your farm a fairy tale touch with everything from cozy tree houses to flowery swings.
Each Mother's Day decoration you place on your farm will give you points in the form of Toadstools at regular intervals. Just click on the pin that appears above them to collect your Toadstools.

You can click on this icon at the right side of your playing field to see your progress:

Collecting enough Toadstools before the event ends on May 15 at 10:59 am CEST will allow you to earn a brand-new wonder of the world, the Woodsman Cabin!

You can also help out your friends by sending pieces of two exclusive Mother's Day friendship gifts!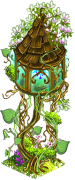 155,000 Toadstools - 1 Woodsman Cabin Piece
312,500 Toadstools - 2 Woodsman Cabin Pieces
625,000 Toadstools - 1 Gold Booster
1,250,000 Toadstools - 6 Woodsman Cabin Pieces
2,500,000 Toadstools - 11 Woodsman Cabin Pieces
5,000,000 Toadstools - 30 Woodsman Cabin Pieces

If you manage to reach the highest reward tier, you'll have enough pieces for a whole Woodsman Cabin (which consists of a total of 50 pieces).

The Woodsman Cabin allows you to send out a Woodsman for 6,000 Thalers, who will return from his forays in the woods with 8-12 Pinewood Mushrooms, Beechnuts or Blueberries.






Of course, these come with new products that can be made in your existing production buildings:

Pinewood Mushrooms

Sell Price: 1,025 Thalers





Mushroom Omelette

cooked at the Guesthouse
1x Pinewood Mushrooms + 1x Onions + 1x Egg --> 3x Mushroom Omelette
Sell Price: 1,425 Thalers



Beechnuts

Sell Price: 500 Thalers





Beechnut Flour

ground at the Flour Mill
1x Beechnuts --> 2x Beechnut Flour
Sell Price: 500 Thalers



Blueberries

Sell Price: 200 Thalers





Blueberry Pancakes

cooked in the Kitchen
1x Blueberries + 1x Pancakes + 1x Honey --> 3x Blueberry Pancakes
Sell Price: 930 Thalers