Meatballs and More!
2018-05-09
For the duration of the event, you'll find the seasonal section of your shop stocked with beautiful Swedish plants and specialties for Mother's Day. The selection includes a variety of lupines, trees, houses and vendors to brighten up your zoo!

Each Mother's Day decoration you place in your zoo will give you points in the form of Meatballs.
You can click on this icon at the right side of your playing field to see your progress:



This time around, you can also help out your friends by surprising them with card pieces from the Friendship Gift Shop! Send them pieces of a dala horse or stave church to help them out!

Collecting enough Meatballs before the event ends on May 15 at 10:59 am CEST will allow you to earn some exciting rewards, including a brand-new animal species - the Squirrel Monkey - and last year's prize, the Golden Pheasant!

5,000 Meatballs - Silver Booster
10,000 Meatballs - Golden Pheasant
20,000 Meatballs - Squirrel Monkey
40,000 Meatballs - Gold Booster
60,000 Meatballs - Golden Pheasant Squirrel Monkey
80,000 Meatballs - Squirrel Monkey

Squirrel Monkeys are social animals, living in the trees of the rainforests in Central and Southern America in groups of up to 500 members. They eat mostly fruits and insects, but can also eat other plant parts and small vertebrates. In your zoo, it can be kept in forest and jungle enclosures, where it will feel right at home in groups of up to 12. Each one needs six units of space.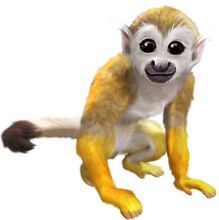 Please note: Only decorations placed in your zoo when the event ends on May 15, 2018, at 10:59 am CEST will count towards your reward. Items in your inventory will not count! So make sure to place everything you buy IN YOUR ZOO.