A Sugary Sweet Christmas
2016-12-08
Christmas in My Free Zoo is a sweet tooth's dream this year - colorful icing, sugary igloos and puffy marshmallow trees!
Get ready for mouthwatering fun and fantastic prizes to boot!

Each sugary decoration you place on your zoo will give you points in the form of Sugar-roasted Almonds. These don't have to be collected - they'll be instantly credited as long as you keep the decoration on your zoo.

Collecting enough Sugar-roasted Almonds before the event ends on December 21 at 11:59am CET will allow you to earn exciting prizes, including a brand new animal - the Sable - and last year's prize, the Ermine!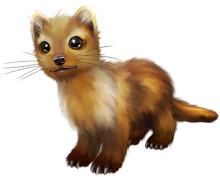 Find out everything you need to know in the forums, or just dive right into the the sweet and gooey event!