Even when she's threatening to wallop you with the rolling pin for stealing the cookie dough before it's ready, you just can't help loving your mom (after all- there's cookies!). Why not should your appreciation with something nice from Presentina's?
Presentina has once again unpacked her Mother's Day stock with all your old favorites from the last few years, along with a brand-new gift: The Rubber Ducky Shawl can now be purchased for a special someone for just 5,000 gB!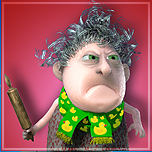 Mother's Day gifts will only be available from May 13 at 12:01 am to May 20 at 11:59 pm CEST, so don't miss your chance!

Happy Mother's Day!