2016 - The Year in Review
March
After a quiet start in January and February, things took off in March!
The popular vet feature in My Free Farm was expanded with a whole slew of new maladies, quests and exciting new challenges for players level 36 and up. The pharmacist also joined in the fun in a supporting role, offering a second questline with 240 quests and 20 new levels.
The entertaining circus app My Free Circus tentatively opened its tent flaps for the first few shows in its beta testing phase. Players were able to build their own circus for the first time and take care of all the responsibilities that come with it - hiring performers, training animals, attracting visitors and testing all of the dazzling features!
Not long after, upjers announced that players could look forward to the Middle Ages once again - with the release of a standalone My Little Farmies mobile app planned for 2016. Soon, players would be able to play the hit medieval farming simulation on mobile devices too, in a completely new, independent game inspired by the cult browser game My Little Farmies.
But that's wasn't all! Another virtual construction was announced: Rail World - another app planned to release in 2016. The game centers around laying tracks, connecting cities, building an expanding a train station and transporting goods all over Europe!
April
Kitties abound in Cat Safari - an adorable app that started purring on mobile devices in April. In this simple but addicting game, players fuse various types of cat into new species - from harmless little housecats to ferocious big cats!
June
Following a calm May, upjers pulled out all the stops to celebrate a beloved European competition: the 2016 Euros. Hosted in France this time around, the monthlong event boasts 24 teams, 51 games and 108 goals - countless upjers games joined the fun with exciting sports events. Portugal secured itself the prized trophy with its talented Seleção Portuguesa de Futebol, but it was the Icelandic people's teams that won hearts with their unprecedented fight all the way into the quarter finals.
Stunning performances were also recognized here at upjers: The news magazine Focus awarded upjers with the "Kundenliebling" (customer favorite) title based on prices, quality, service and reputation in the category "PC and Browser Games," acknowledging upjers as one of Germany's leading brands.
In June My Free Circus also officially hit the App Store and Google Play Store!
Another record was broken in hit browser game My Free Zoo: the Mhorr Gazelle became the virtual zoo's 200th animal. Extinct in the wild, the Mhorr Gazelle was saved by breeding efforts in European zoos and later reintroduced to northern Africa. In the game, this beautiful gazelle can be obtained by collecting card pieces from the daily bronze boosters.
July
Eerie dungeons and wild outer space action domated July at upjers. The apps Meteor Battle and Dungeon Match proved two exciting new additions to the stores. In Dungeon Match, players fend of hordes of creepy and terrifying monsters to conquer and plunder dungeons; in Meteor Battle, your job is to fight a ceaseless onslaught of meteors.


There was another cause for celebration in July: upjers celebrated its 10 year anniversary! Started as a small two-person company in Memmelsdorf near Bamberg by Klaus Schmitt in 2006, the company quickly became one of Germany's most successful browser game companies with around 100 employees. What a reason to celebrate! The party took place in the lot right next door to the company headquarters - bathed in the warm summer sunlight, the staff enjoyed a spectacular evening!
Pilot Amy landed her biplane in My Free Farm 2 for the first time in July! The long trip made her pretty ravenous, and she asked for plenty of blueberries and blueberry muffins to regain her strength for the rest of her trip. She's been stopping by the farm for special occasions ever since - the last time was in October for World Egg Day! By the way, Pilot Amy is based on the American flight pioneer Amelia Mary Earheart, who was the first woman to cross the Atlantic solo on a plane and became an idol for American girls.
My Free Zoo Mobile introduced a brand-new trading system, with various filter options that make finding and posting specific offers much easier. This revolutionizes the trading system and allows you to find missing card pieces more efficiently.
August
In August, upjers started saddling the horses - the app Horse Farm launched into its first testing phase. We're still busy making the final touches to the app, which is scheduled to release in 2017. Horse Farm allow players to run their own vacation ranch, where they will keep, train and care for a wide variety of horses, manage day-to-day guest activities and run a successful business!

October
"Come one, come all!" In October, we made My Free Circus even more accessible by making a browser version available, so that you can play your favorite circus game both on your PC and mobile devices!
Lucky number 7! In October, the My Free Farm browser game celebrated its 7th birthday - and we're sure many more will follow! Even over 2,500 days after its launch, it's still popular as ever - both with veteran players and newbies just starting out!

Uptasia expanded its family too, with the new family feature! Players can now team up in families and tackle exciting challenges together. This fantastic addition to the game offered a brand new platform for people to socialize and work together - the thought of which always makes Bianca purr happily!
November
November started on a very militant note with the launch of Space Bash - a science fiction battle strategy game now available in the Google Play Store. Harvest resources, battle other players and plunder supplies - Space Bash requires a certain amount of aggression and strategic planning.
The Farmies have been busy too: Since November, My Little Farmies Mobile has allowed players to build their own medieval village. The standalone app allows players to breathe life into their very own village, where they can farm, harvest fresh produce and process their goods into wonderful wares. My Little Farmies Mobile has it all - trade, animal breeding and tons of exciting features for iOS and Android!
Players in the United Kingdom were also the first to try out Stonies! This app catapults players back to the Stone Age where they can help hapless cavemen build their first settlement and embark on the path of evolution to hone their skills and become sophisticated humans. The rest of the world can look forward to the adventure in early 2017!
On the very last day of November, we also launched an unprecedented promotion: our Secret Santa promo runs until mid-January and allows players to obtain gift codes for premium currency with select bundles of Diamonds, Gems, Gold Bars, etc. These codes can be redeemed for your own account in any of our browser games, or passed on to a friend as a special surprise! Find out more here!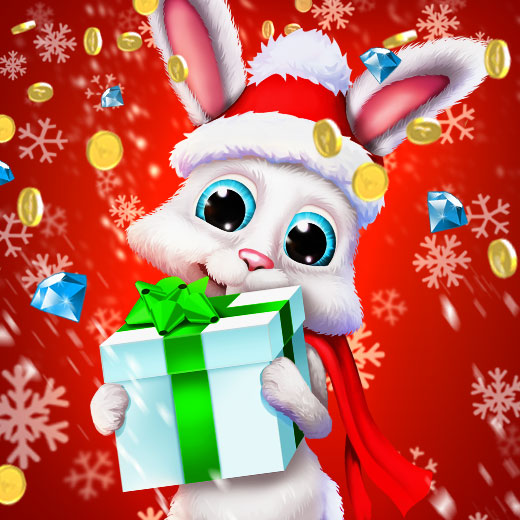 December
Christmas is always an splendid time in our games with countless festive events. But Kapi Hospital got a very special gift this year: the Maternity Ward everyone has been waiting for has finally opened its doors! Players level 50 and up can build the new floor for either HospiDollars or Coins. Seven skilled doctors will take care of the expectant mothers who are delivered to the hospital by ambulance. The ward offers all sorts of services from pregnancy gymnastics to underwater births. Take part in the miracle of life!
Mid December also marks the fateful time our planet was overwhelmed by aliens. Humanity must be saved! In the Bunker Builder app, players create their own subterranean military bunker, from which they will conduct operations. Build units, produce weapons and advance research to help humanity prevail over the alien plague. Bunker Builder is available for iOS and Android mobile devices!
Once again, upjers opted to give to charity instead of sending business partners lavish Christmas gifts. This year, we donated 10,000 Euros to each a local and international charity: "Gemeinsam helfen für Bamberg" (Helping Together for Bamberg) and Misereor for relief in Aleppo.
We celebrated our Christmas party in a small but charming local castle - the ambiance was magical, and it was a comfortable evening with good food and rich conversations!
We were also delighted by a very special little Christmas gift, that a number of our employees had fun assembling together:
What an exciting year it was for all of us - staff and community alike! We were very happy to share it with all of you :)
Coming up in 2017!
We're currently working on a bunch of exciting apps that are due to be released soon. These include our upcoming ranch game, Horse Farm, in which players create their own vacation ranch and take care of their horses; Stonies, the unique Stone Age simulation which catapults players back to the beginnings of the human race; Deep Space Banana, a space game that will make you go bananas and our lavish adventure game Wonderland, which lets you explore a beautiful world with an eerie shadowy side...
We look forward to another brilliant year with you! And of course, we'll continue to keep you updated here in our Portal news!
Here's to a successful 2017!