Photographer Super Cow
2015-07-30
We have prepared another spectacular Super Animal Event for you!

Players level 4 and up might now chance upon Ice Cubes when harvesting cauliflower, radishes and potatoes until Wednesday, August 5th 2015, at 11:59pm CEST!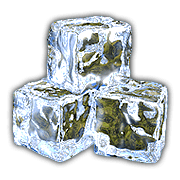 Collect 500 of them, you'll be able to turn a cow of your choice into a Photographer Cow - just visit Cowboy Chad in Mootown with your Ice Cubes.





The Photographer Cow is an exceptionally productive cow - the sights it sees and the pictures it takes inspire it to give +1 Milk per harvest!

Of course, the Photographer Cow can be activated retroactively, if you don't have a Cow Shed when you unlock it. You can see how many Ice Cubes you have already collected by clicking on Cowboy Chad. You'll also be able to buy additional Ice Cubes from him until Sunday, August 9th 2015, at 11:59pm CEST.

The road between Mootown and Pondsville has also been changed up a bit - you can now find the Farm Map, which can be used to travel between the Farmer's Market, Picnic Area, Forestry and the towns, in the top menu bar:



Enjoy the game!