Fun in the Sun - with our Summer Sports Event!
2016-08-03
Sports are all the rage now - but not everyone wants to run and jump around in the sweltering heat of a tropical island. That's why your resort has organized hedgehog and rabbit sports instead. Along with some imposing statues and beautiful fauna,
this event has everything a vacationer could want!

From now until Wednesday, August 24th, you'll be able to acquire athletic statues, blossoming trees, and adorable hedgehog and rabbit sports displays that are guaranteed to melt your guests' hearts. Each summer sports decoration you place will grant you Medals, which can be used to earn exciting prizes, piece by piece.
Prizes include a brand-new landmark decoration - the Wrestler's Ring - which features two wrestling peacocks and gives gifts of Hotel Dollars, Shells or experience points when charged, and a new restaurant for your resort: the Paradisaical Beach Bar!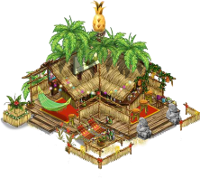 Find out more in the forums, or dive right into the game to check it out!