Special offers for all zoo directors!
2012-09-13
Always wanted to have this particular decoration or animal but just didn't have enough
zoo-dollars
at the moment? Well, you might just be lucky enough and be able to buy it for a special price upon today's login
. But don't wait for too long: this offer will only be valid for a total of 10 minutes.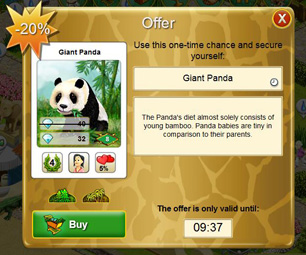 Signed into your
zoo
today yet? Well, best stop by there soon and have a look: your personal offer of the day might just be the item or animal you've been meaning to buy for the last few weeks!
And don't forget: only today, September 13th until 23:59 hours UTC you'll get a free golden statue to celebrate the 3 millionth user on My Free Zoo! Check it out now and place it in your zoo!