Easter Shenanigans in Green Valley
2016-03-21

Easter is here and now players level 7 and up can hunt for Easter Eggs - until April 3rd, 2016 at 11:59pm CEST.
Click on the Easter Egg at the top of your screen to get started. Every 10 hours, you can dig through 5 piles of grass for free! (Be sure to complete each game by clicking on the button!). In addition to a lot of points from the Wishing Well in your recreational garden, you can earn a special Easter Bunny for your trophy cabinet by collecting 600 Easter Eggs!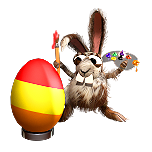 And of course, there's a stage event as well! Hire the Cool Bunnies or the Rockin' Moles to earn tons of points!
Happy Easter!