Kapi Hospital - A wellness oasis in your own hospital!
2013-03-12
A hospital stay can be quite stressful for some patients. Those times are over now - we've got the wellness-floor for you!

Send those patients who, after having been fully treated, still exhibit wellness needs, to the new floor now. If their needs are fulfilled, you'll get wellness points in exchange, which you'll need for the new quest-system.
As soon as you have reached level 30 (Lady Lozenge), you'll be offered the wellness floor for purchase.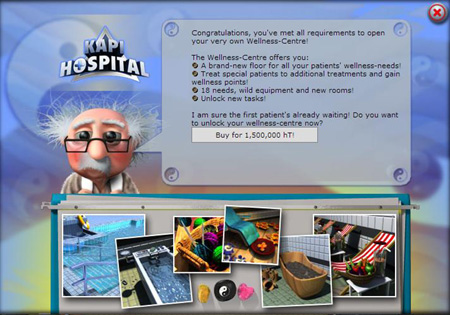 So you can get started right away, the floor already comes with a swimming pool and a deck chair. You can purchase further rooms at the architect's in Fractureford. The new wellness products can also be found in Fractureford, in a brand-new shop, the
Wellness-Temple
.
Only patients that are completely treated and satisfied will start developing wellness needs. That means, that you'll have to ensure the nurse has taken care of all minor procedures as well. But mind: not every patient that is 100% content, will have wellness needs. You can find out if your patients have wellness needs via the yin-yang icon in the patient's medical record. By clicking on said symbol, you'll send them to the wellness floor. Once they are on your wellness floor, treat them according to the needs they exhibit. Once a patient's satisfaction has reached 100%, you'll be able to collect their payment. You can do this from every floor, even if the patient's medical record displays a wellness icon. If you don't wish to treat all of the patient's needs, you can, having treated one of the needs, send him/her home as well. The amount of wellness points you'll receive in that case will be reduced in that case - you won't receive full wellness points then.
Central Medical Agency (Quest system)
You'll reach the Central Medical Agency by clicking on the thermometer on the left hand side of the screen. Here, you'll find an overview of all available quests and your current status toward the next quest-level, which you'll be able to reach via wellness-points. As soon as you have reached the first quest-level, you'll be able to complete the new tasks. Face the new challenges and secure yourselves rewards every day!
For further details, please read the
FAQ-text
, as well as of course the in-game help!
But that's not all: we've negotiated with the cleaning lady and the construction team, and have ensured that they'll complete their work faster in future. On top of that,
Miss Rosewater
will now offer you
even more presents in here shop.
Furthermore, we've reworked a few features to solve current problems or to increase their usability.
Enjoy our new features!