Garbage Garage - Quite a job for the chimney sweep!
2013-04-17
The old propane gas tank needs a chimney. For where there's fire there are... right, exhaust fumes! So these won't smoke out your entire junkyard, we've got a giant animated chimney for you.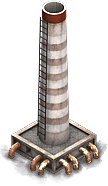 As exclusive bonus item, this new decoration cannot be found in your scrap-shop, however, but is available with a Dosh-purchase. For further details, please visit the game forum now!