The first English version of our popular browser game My Fantastic Park has been launched into open beta stage. Take on the role of theme park-director and create your very own amusement-park paradise!
On the popular browser game
My Fantastic Park, you are the boss!


Build a large variety of different thrilling rides and amazing leisure attractions, entertain children with the
petting zoo
and the
merry-go-round
, offer grown-up park visitors a true adrenaline-kick with several nerve-shattering roller coasters and let senior citizens reminisce with the
vintage car ride
or make their hair on end when visiting the
haunted house
.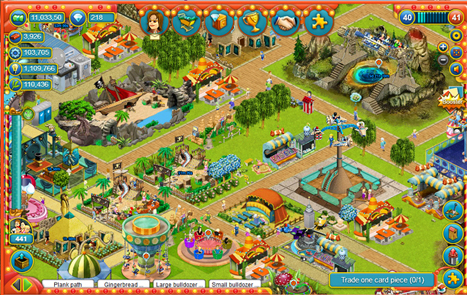 As you level up, more and more great attractions and amusement park rides will be available in the in-game shop. Buy, upgrade them and increase their fun factor to attract more visitors to your park. Visitors won't just help bring in more money to your park, but also drop resources from time to time, which you can use to buy new attractions or upgrade those you already have.
Complete mini-tasks and gain precious rewards and visit your friends' parks to help them. Open
daily boosters
to gain cards and card-pieces and trade cards with your friends.
Bit by bit you will turn your amusement park into a veritable leisure time oasis. We're looking forward to you on
My Fantastic Park!