Relish this summer's last ice cream cone!
2012-09-10
Off you go to Miss Rosewater's in Sniffleton! In her small store, the good lady is selling off the remaining ice cream cones for an unbeatable 50 hT per piece. Send your friends one of these tasty cool delights to spice up the last days of summer!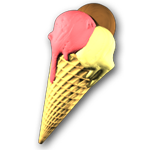 This offer is valid for an entire week, until September 16th at 2359 hours CEST!